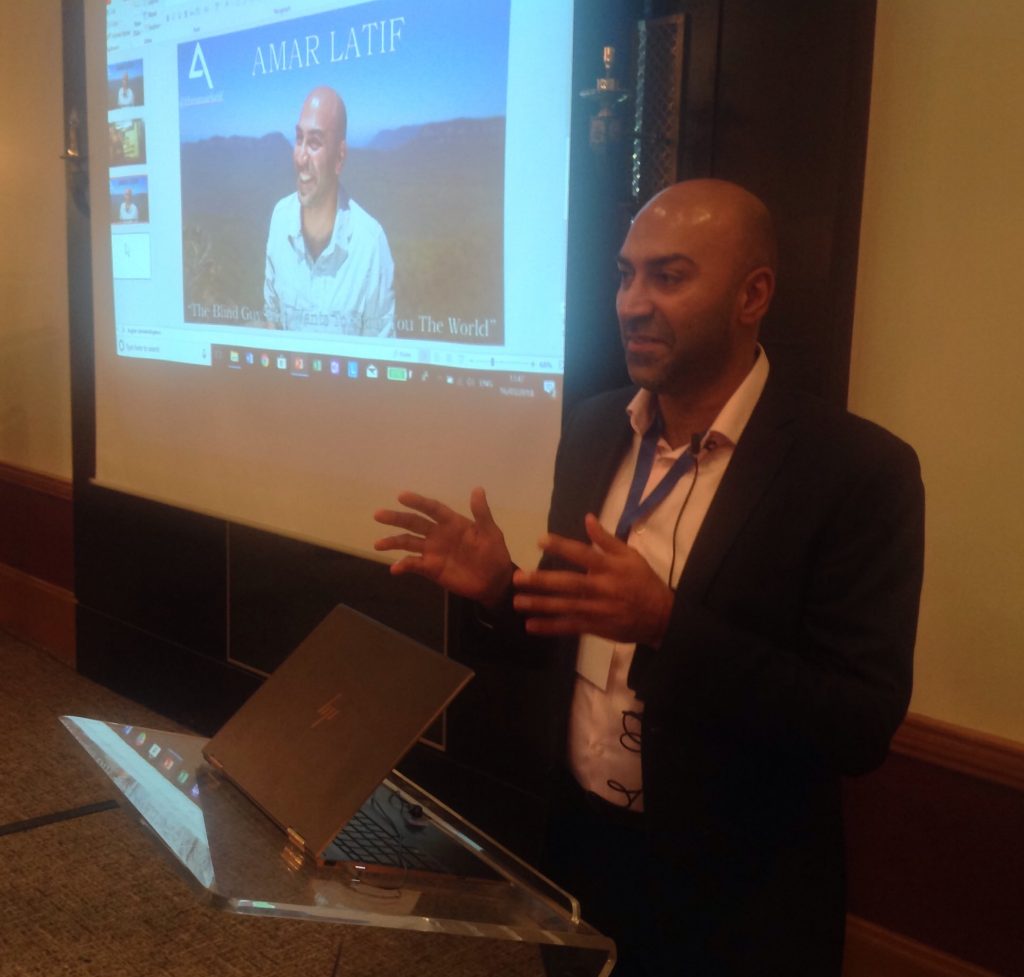 "I want as many blind and visually impaired people as possible to be able to say that they've achieved what they wanted to achieve, and not feel like their disability held them back in any way. We have to allow everyone, regardless of their situation to fulfil their own potential.
Teachers are the first line in supporting and inspiring these kids, and it makes me feel incredibly optimistic to know that there are so many people dedicated to ensuring that each and every one has the opportunity to succeed at whatever they're passionate about."
We're thrilled to announce that Amar Latif, who spoke at our 2018 conference, has become VIEW's ambassador, supporting VIEW and our members in our work representing the interests and needs of children and young people with vision impairment to help them to fulfil their potential.
Amar is a blind traveller, entrepreneur and TV personality with an astonishing track record of facing up to major challenges. Through sheer determination he has managed to turn an unpromising tale of inherited disability and loss into one of truly inspirational achievement.
Amar, who spoke at VIEW's 2018 conference, is a great supporter of those working to support the education and development of children and young people with vision impairment. Amar is passionate about inspiring children with vision impairment to explore their world – when he lost 95% of his eyesight by the age of 18, he was determined blindness wouldn't limit his enjoyment of life. He realised the way to succeed was to get a good education and work hard:
"Losing my sight pushed me into pushing forward. Once I got over the initial shock, I decided I wasn't going to be wrapped up in cotton wool for the rest of my life and I was going to get out there and do the best I could. I always had the mindset that life was short, with or without sight, and you've got to get out there and do what you can. This isn't a dress rehearsal. You can't stop life. You can't rewind it. The only way is forward."
"I set up Traveleyes as from a very young age I wanted to see the world. I knew there were so many things out there to be experienced, but as I found that what I wanted in terms of a travel aspiration didn't exist I decided that either I do without, or build it myself. So I built it."
"Each Traveleyes holiday has an equal number of blind and sighted travellers. We pair a sighted travellers with a different blind traveller for each day of the trip. So everyone gets the chance to meet everyone else. The sighted traveller is not a carer in any sense of the word. There just there as a sighted travel companion, to describe the sights to the blind traveller. Both types of travellers learn about each other and make new friends."
Amar also works with schools around the world taking students on a wide range of travel adventures whilst having them describe the sights to other blind travellers. By broadening the mindset of young people today, Amar hopes to create a more accessible world for those with vision impairment in the future.
As part of his role as ambassador for VIEW, Amar would be delighted to talk to young people with vision impairment (between the ages of 10 and 20), teachers and parents in regional clusters, to share his story, inspire and demonstrate the immense educational and personal benefits of travel. If this is something you would be interested in discussing, email us here at VIEW – email: development@viewweb.org.uk