Optelec Ltd

We are delighted that Optelec Ltd have become one of VIEW's latest sponsors.
"Improving the quality of life of visually impaired and dyslexic people – reaching out with simple and effective solutions."
Since 1985 our products have been designed to help make the most of life: to allow staying in touch with friends and relatives, to participate and succeed in education and the workplace as well continuing to enjoy hobbies.
There is a growing range of assistive products available from Optelec, whether it be a simple optical magnifier for low vision, or the latest device to assist a Braille user to access all parts of the information world.
Our Brands Include:
Optelec – Electronic Magnifiers and Text to Speech
Enhanced Vision – Electronic Magnifiers and Text to Speech
Freedom Scientific – Software, Electronic Magnifiers and Braille Displays
Schweizer – German made optical magnifying glasses
OrCam – We are a proud OrCam Distributor
Our contact details are 0800 145 6115, email: Ordersuk@optelec.co.uk
See also: Introducing our new sponsor – Optelec Ltd
Positive Eye
Positive Eye has generously sponsored VIEW for many years. Positive Eye is a leading provider of educational consultancy and training for professionals working with children and young people with vision impairment. Their courses and products are widely used throughout the UK, Europe and worldwide. Positive Eye kindly offers discounts for VIEW members on some of their unique products.
Taking a unique and practical approach Positive Eye offers a range of services from a full consultancy service to hands on, interactive courses which clearly demonstrate how to improve learning outcomes and measure progress. Our practical, customisable and easy to use products support your Service or school delivery and the children you work with.
In addition Positive Eye runs a correspondence braille course, and collaborates with a wide range of partners including RNIB, VIEW, charities and the University of Birmingham. We also contribute to the delivery of a postgraduate diploma course for teachers of VI.
Dolphin
Dolphin is now generously sponsoring us – see their blog post about their sponsorship
Dolphin is the only specialist software house developing solutions to suit all types of reading impairment – from low vision to blindness and dyslexia.
You can speak directly to the makers of our products – we design and develop our products in-house – so when you call us or meet us, you're speaking directly with the people who know most about the products you're using.
Our design and development teams are experts in building software to suit user requirements, and our highly knowledgeable sales and support teams can help you find and use the perfect software for your needs.Dolphin SuperNova has been developed with many education specific features to benefit visually impaired students, includng the SuperNova USB for flexible studying on any Windows PC, and Connect & View for connecting to the teachers interactive whiteboard. We also offer a home and school licences policy; whereby any licence purchased by a school is matched by a home licence for the same student for continuity in their learning.
SeeAbility
SeeAbility is now kindly sponsoring VIEW. Registered as The Royal School for the Blind, SeeAbility is one of the oldest disability charities in the UK and has pioneered specialist support for over 200 years. SeeAbility provides extraordinary support and champions better eye care for people with learning disabilities and autism, many of whom have sight loss.
"We are currently running a programme of eye care in special schools and working with QTVI colleagues and teachers has been crucial in embedding an understanding of the results of sight tests, support with glasses and enabling children with SEND to make the most of their vision.
We want to be able to share our knowledge but more importantly network with colleagues in the world of education, to understand their needs as well as the world of ever changing policy in the field
of supporting children with visual impairment."
SeeAbility: work and project findings – article written for VIEW members
RNIB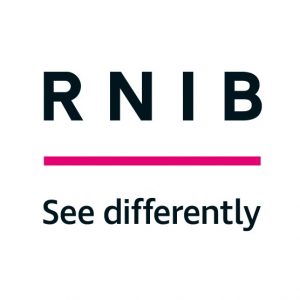 If you are working with blind and partially sighted learners from birth to 25, including those with complex needs, RNIB is here to help whether it's on the phone, face-to-face or through our online information.
With our expert guidance, we offer:
Specialist advice and guidance
Resources, training and events available for professionals available through RNIB and partnering organisations
Family, early years and transitions support
Shape and Share events to connect with other families
Information and networks to share experiences and learn from others
Products, toys and games that encourage children to be independent and enjoy play
Books, magazines and curriculum materials to enjoy at leisure and for educational purposes.
Get in touch with us today on 0303 123 9999, by email; cypf@rnib.org.uk or, visit our website www.rnib.org.uk/children