The UK's main residential conference organised by and for everyone working with children and young people with vision impairment
When?
The VIEW Conference 2019 will be held on Thursday 14 and Friday 15 March.
Where?
Hallmark Hotel Birmingham Strathallan
225 Hagley Road
Edgbaston
Birmingham
B16 9RY
Booking details
If you are booking for more than one person please email your booking details to viewconference@live.co.uk
Price
• Whole conference (residential) £325 (VIEW members £255)
• Thursday 14th March (daytime only) £145 (VIEW members £120)
• Friday 15th March (daytime only) £145 (VIEW members £120)
• Accommodation for the night prior to the conference – £75 (bed and breakfast)
• Joint conference and membership offer – pay for membership fees and conference fees at the same time. This may be of interest to those of you whose LA pay their membership fees.
Join your colleagues for two days of professional development:
Listen to experts in the field
Stay up to date
Participate in workshops
Network with colleagues from across the sector
Be inspired and energised
Keynote speakers confirmed so far include:
Christopher Robertson, Chair of National SENCO Forum Advisory Group
Clare Jackson, Clinical Psychologist, Addenbrookes Hospital, Cambridge
Naomi Riches MBE – past member of Great Britain Para-Rowing squad
At the 2012 London Paralympic Games Naomi Riches achieved what some athlete's only dream of; winning a Gold Medal at a home Games. Born in 1983, Naomi was diagnosed at just 8 weeks old with a Visual Impairment; her parents knew that from day one this would lead to many difficulties and challenges.
Dr John Harris, Royal Society for Blind Children, London
JOHN HARRIS joined the Royal Society for Blind Children as Head of Research and Public Affairs in November 2011 from BlindAid where he was CEO. Prior to this he was Deputy Director of Policy and Research at Barnardo's.
John's background is in developmental psychology (BA Hons Swansea; MA and PhD Nottingham) and he started his career as a lecturer in the School of Education, Cardiff University. He qualified as a clinical psychologist in Ontario, Canada in 1989.
In 1990 John was appointed CEO of the British Institute of Learning Disabilities.
An Honorary Professor of Special Education, Birmingham University (2002-2013) John was elected a Fellow of the British Psychological Society in 1997 and has authored numerous publications on children with developmental disabilities and special educational needs.
Sarah Hughes – Head of Gwent Visual Impairment Service, South East Wales
Exhibition:
Take part in hands-on demonstrations from a range of exhibitors whose products support children and young people with VI
Talk to organisations about services that can support you and the children you work with
"The exhibition was really great and interactive. I really enjoy this part of the event"
Exhibitors
Please e mail viewconference@live.co.uk to enquiry about exhibiting.
Feedback from our delegates
Read a review of VIEW 2018 by Jayne Thistlethwaite – University of Birmingham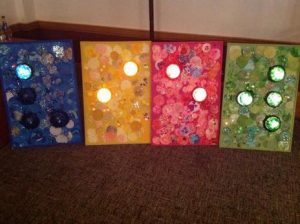 90% of delegates providing feedback said they learnt something at the conference that they would immediately put to use in their work
"Once again, a brilliant conference. It is very difficult to find training in vi but the conference presents a diverse range and enable participants to access speakers who provide lots of useful info"
"As a VIEW member the conference is amazing value for money – to hear experts in the field and have the chance to catch up with colleagues from around the country"
Keep in touch
Please note that even if you've been on our mailing list before – due to new EU data regulations, you will need to opt in to join the "VIEW Conference, Courses and Events" mailing list to continue to hear from us about the conference. Please fill out the form at the following link: http://eepurl.com/dskJSL – thank you for your support.
Sponsored by