Thank you to everyone attending VIEW 2018.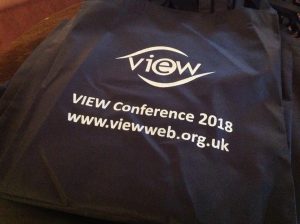 Where permission has been granted to do so, presentation materials from the conference will be available able here for download in PDF.
Keep up to date, and continue conversations by following @VIEWteach on Facebook and Twitter.
Conference Programme
Keynote presentations
The future role of the SI sector – time for change? (PDF) – Brian Lamb OBE
Understanding childhood visual impairment – Professor Jugnoo Rahi, Professor of Ophthalmic Epidemiology, and Lucie Teoh, Research Assistant, Institute of Child Health UCL / Great Ormond Street Hospital

Additional resources – Following the presentation given by Jugnoo Rahi and Lucie Teoh, several delegates have expressed in interest in obtaining copies of the Functional Vision questionnaire and Vision Related Quality of Life questionnaire, both of which were developed for use with children and young people with VI.  Lucie has therefore sent further information about the questionnaires and the characteristics of the CYP for whom they were developed.

Everyday inclusion (PDF) – Julie Colley (Headteacher) and Rachael McVeigh (SENCO), Highfield Primary School, Leeds
Alliance to improve provision for children and young people with vision impairment (PDF) – Lucy Dixon and Tara Chattaway, RNIB
SRE and SEND: Questions to be answered? (PDF) – Peter Imray
Visual impairment; Can you see the whole child? – Dr Jenefer Sargent, Consultant Paediatrician, Neurodisability Service, Great Ormond Street Hospital- presentation not currently available. 
Workshops
Project Torino: making programming accessible for VI learners (PowerPoint) – Alex Hadwen-Bennett
Planning and implementing access arrangements for GCSE and A level exams – Simon Kerrigan, Tapton School, Sheffield
TeachCVI project – Gwyn McCormack, Positive Eye – project materials available here: http://www.teachcvi.net – select the link on the top menu bar labelled "database" – this is where the rich resources are housed.
Learning with iPads: A pathway towards independence – Christina Matawa and Andrea Ferris, Hammersmith and Fulham Sensory and Language Impairment Team
Additional resources mentioned in the iPad workshop: BMJ article – Tablet computers versus optical aids to support education and learning in children and young people with low vision, protocol for a pilot randomised controlled trial, CREATE (Children Reading with Electronic Assistance To Educate) (PDF)