The Journal of the Vision Impairment Education Workforce
VIEW is pleased to announce the launch of a new series of publications: VIEW Teach, aimed at supporting the work of those in the field of education of children and young people with vision impairment. Each edition will present selected articles on key topics in the sector, in a printable magazine format, and we hope it will inspire reflection and discussion.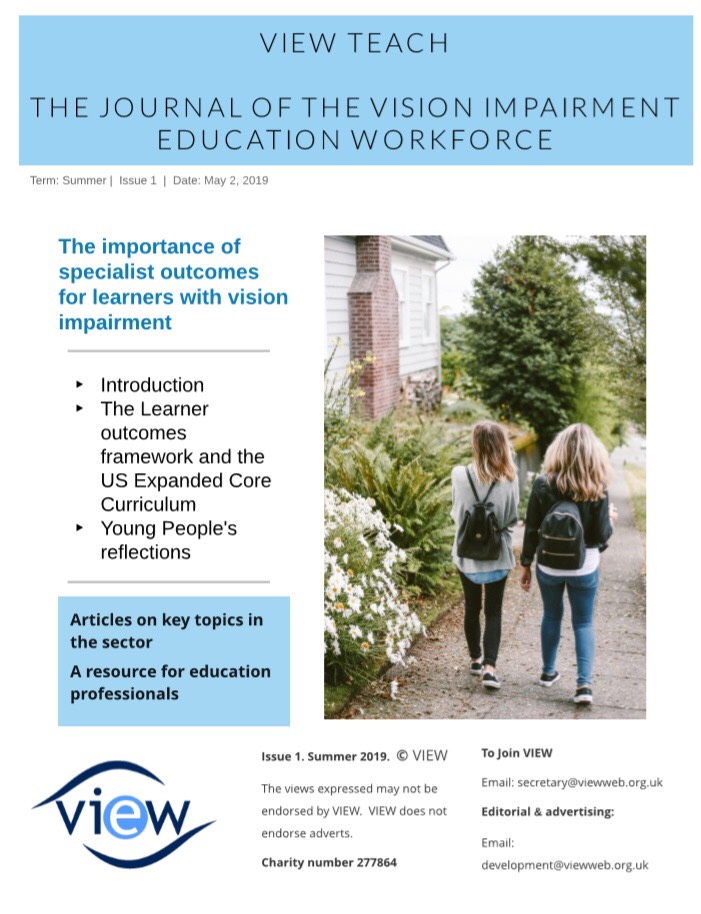 We launch the series with a paper that discusses the importance of a specialist VI Curriculum for learners with vision impairment. The paper is organised around the "learner outcomes framework" (NatSIP, 2016), which was adapted from the US "expanded core curriculum" (ECC) (Hatlen, 1996; Sapp and Hatlen, 2010) to ensure a wide range of independent learning, mobility, everyday living and social skills are planned for and taught, enabling young people to achieve both academic outcomes and to make a successful transition to independent adulthood.
The authors then expand upon the original NatSIP report by taking each of the eight learner outcomes in turn, to consider how young people with VI had assessed in retrospect, the support they had received at school and the extent to which it had prepared them for the transition to adult life.
Download VIEW Teach – Issue 1 – May 2019
We welcome your comments – email: development@viewweb.org.uk
Related content